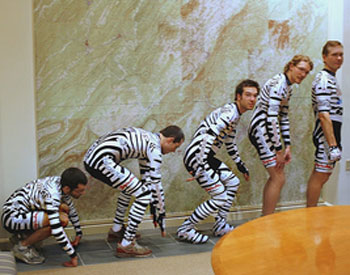 As we hurdle down the path of internet marketing's evolution, there's been an onslaught of new ideologies and terminologies that have been adopted in the last decade.
None of them have caused as much disruption as inbound marketing methodology. This disruption has left many online marketing agencies scratching their heads.
Some of these professionals have leapt on the inbound marketing bandwagon, while others explain inbound marketing is nothing new, but rather a dress-up new term that HubSpot uses to sell its software.
This cognitive dissonance has spawned some heated discussions on social networks. Online marketing professionals continue to wrestle with an industry identity crisis.
In a recent blog post, John McTigue (Kuno Creative) posited "Lead Generation is the New (Old) Inbound Marketing". John argues that while terms like inbound marketing and SEO are being focused on by the industry, it's best to focus on what matters to our customers and ourselves: generating sales leads.
Absolutely. Whether you're a business owner or rockstar practitioner, one of the most important outcomes of any campaign is to consistently generate and close sales leads, regardless of what you are "selling."
It doesn't stop there though. Several other important outcomes comprise inbound marketing beyond merely generating sales leads, which are only part of the "big picture."

What Makes Inbound Marketing Remarkable?
Simply put? Outcomes. Inbound marketing is a channel that, when coupled with sound methodology, provides a holistic internet marketing solution. The paramount goals of any inbound marketing campaign are to
Build and manage brand loyalty and trust
Build and manage relationships within the online community
Generate targeted website traffic

Convert website traffic into qualified sales leads
Nurture these leads into loyal customers
Apply metrics to test, measure and improve results
The Marketing Breakdown
The overarching principle of all marketing is simple: Managing profitable customer relationships Principles of Marketing Tenth Edition, Kotler, Armstrong. This principle covers a considerably broad spectrum.
However, it reinforces the notion that all aspects of marketing are concerned with generating sales leads and converting those sales leads into profitable customer relationships.
The diagram below shows the web of relationships within marketing in general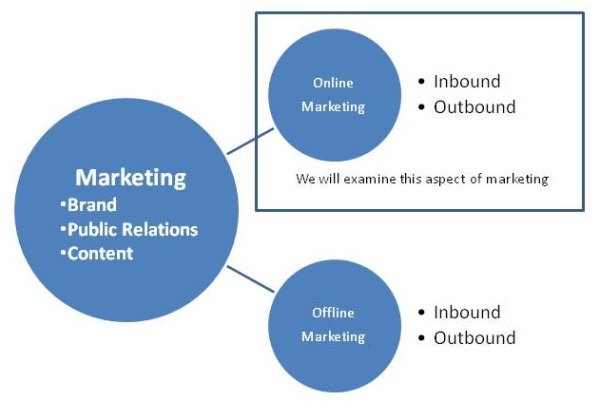 The diagram above shows the relationships that online and offline marketing have with marketing in general. The holistic view of marketing involves brand, and its exposure through public relations within various forms of content.
Let's take a closer look at online marketing.

The diagram below showcases the relationships in online marketing and its audience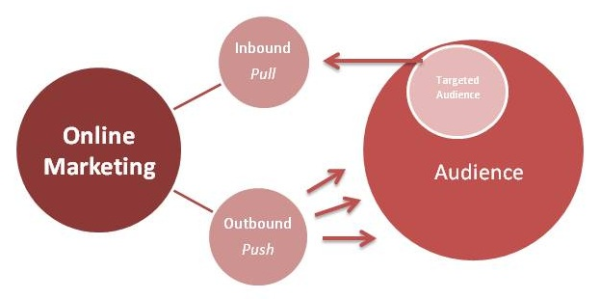 The diagram above depicts the inbound channel pulling a targeted audience in, and the outbound channel broadcasting to the entire audience.
The outbound approach broadcasts a message to an entire audience a brand reaches, regardless of whether that audience is interested in the message.
By contrast, the inbound channel pulls a targeted audience in, by being discovered on a targeted search request from a specific individual or audience.
Compare the online marketing inbound channel vs. the online marketing outbound channel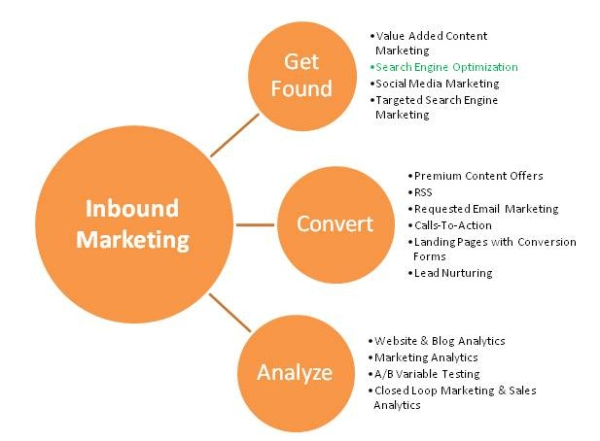 VS.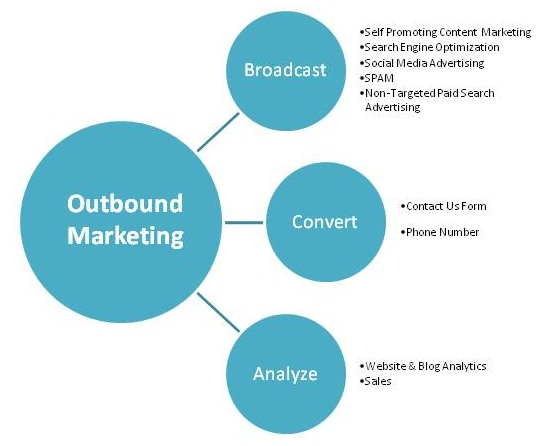 We need to shift the focus from mere semantics and industry, in-house fighting, to understanding the work and delivering results, by providing an integrated solution to the people who matter - our clients and consumers.
On the same token, we can't discredit our passion and unique backgrounds, both personally and professionally. We need to get better at honoring how our specialties lend themselves to an overarching objective, through inbound marketing.
Inbound Marketing is channel agnostic, implementing a series of tactics that provide a solution. This allows business to get found by their targeted audience, convert prospects to leads, and convert those leads into sales. Which ultimately honors the principals of marketing.
Key Takeaways
No matter what type of marketing we do, we aim to generate leads and customers. The cycles, strategies, and tactics will vary by industry influencers. SEO, SEM, social media marketing, content marketing, earned media and branding can all yield results within the scope of their objectives.
It's clear that SEO is natural to the inbound channel, and has existed since the inception of search. However, SEO by itself is a tactic, whereas inbound marketing executed properly is a holistic solution.
Do you think there's an identity crisis in the marketing industry? What challenges have you discovered within your niche of the industry? We look forward to hearing your thoughts below
Photo Credit: Team Traveller

Follow +KeithGutierrez