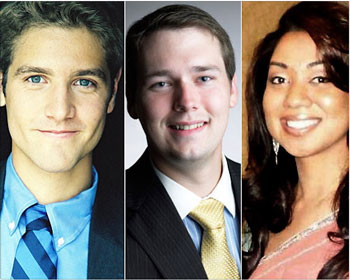 Before you purge all that Lent resolve with the frivolity of green beers and Saint Patrick's Day this weekend, here's our usual roundup of the past week in digital and inbound marketing:
MANAGEMENT
Harvard Business Review (HBR)'s summary of the evolving dynamic between generations a real treat in Talent Management: When the Old Outnumber the Young.
Key Takeaways
Culture, then Strategy Section on the cycle of organizational models (pyramid, rectangle, diamond and forecasted inverted triangle) particularly fascinating
Move toward task-based titles rather than prestige-based GenXY continues to wield klout in immersion and integration of technology with business and creative, while a priority for established generations is a more bell-shaped curve that allows demands to decelerate toward the end of one's career lifecycle.
Photo courtesy of Bloomberg.com (Wikimedia 2012)
TECH
GigaOm's take on Amazon is No.1: Who's Next in Cloud Computing? touches upon the scramble for dominance in big data. Welterweights Google, Facebook and Microsoft no surprise, but there were still a few surprises in the Lucky 7 lineup.
Implications for inbound marketing? Companies that derive intelligence from data, and action from intelligence more quickly and effectively distinguish themselves amidst a host of industry players.
Similarly, YouTube's latest algorithm update now rewards longer viewing times via its Suggested Videos link, signaling a shift from click-through metrics to period of time viewers spend on a single video. Is YouTube saying time/space is now more valuable currency than raw CTRs? Only Time will tell ... (pun intended).
Case in point, the video below from the Corning Glass Museum. Myself and another member of our agency's actually have roots in Rochester, New York, which cropped up with this gem at the office this morning:
SOCIAL MEDIA/PR
Ask any social, PR or content marketer, and the story hasn't changed: Happy business is about relationships. David Johnson nails it down further in Why Relationships Matter and ROI Doesn't, asserting that while ROI is vital, treating people right can truly cultivate a flourishing, collaborative business model, with higher profit and revenue margins.
"I'm not putting forth the idea that you should become buddy-buddy with all of your customers to the point that you're hanging out with them on the weekends. (Rather), Build the type of professional relationship that showcases you as the authority, the go to restaurant, or the honest mechanic.
Not profound, but so many companies still default to arcane, route workflow models obsessed with numbers and data, only to miss an unacknowledged, begrudging or exasperated customer standing in front of them.
Every salesman, every shrewed manager or leader knows it's not enough to get people through the door. In fact, that's often the easy part when pretty aesthetic, websites and stellar content, service or product rule the retail and digital space.
The name of the game, then, is what gets people to come back. To spread the word about how great their experience was, endorse/refer and recommend you to their peers, family, friends -- anyone who will listen and might learn.
End of day, money is not the end-all, be-all of success factors. Ask yourself what it is that compels your boss (the consumer, client, and your people) to gladly and repeatedly be generous with their time and wallets. What process or journey will take you from just another salesy, jargony marketer to the go-to destination for your audience's individual preferences or needs?
Why would your customer go to bat for you amongst a tsunami of competitors, vying for their attention, loyalty and feedback? Listening and learning by way of meaningful engagement, memorable content and measurable results is not some mystic illusion; it's reality. Sub-standard or par offering doesn't impress an increasingly knowledgeable, discerning and persnickety buyer.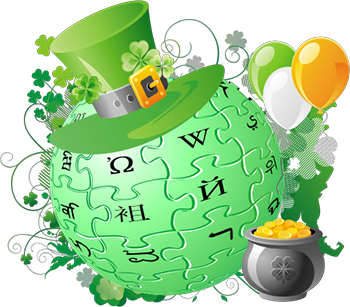 Photo courtesy of Wikipedia.com
We'll leave you with our top 5 little-known facts about the frivolity and fanfare of why everyone's Irish this Saturday, from NatGEO's St. Patrick's Day Fast Facts: Beyond the Blarney:
Snakes have never been native to the Emerald Isle Many myths surround St. Patrick. One of the best known—and most inaccurate—is that Patrick drove all the snakes from Ireland into the Irish Sea, where the serpents drowned. (Some still say that is why the sea is so rough)
Green Unlucky? In the States, it's customary to wear green on St. Patrick's Day. But in Ireland, the color was long considered to be unlucky, says Bridget Haggerty, author of The Traditional Irish Wedding and the Irish Culture and Customs Web site
Slainté! (meaning "health) According to the U.S. Census Bureau, 34 million United States residents claim Irish ancestry, nearly ten times the entire population of Ireland today, which stands at 3.9 million.
RELATED LINKS
FoodBuzz.com - Blood Orange Crostatas for an early Pi Day
Lifehacker - Make All Your Friends Wait with This YouTube-Is-Loading Costume