Social Media Examiner's 2012 State of Social Media Marketing Industry Report provides compelling insights:
The social web is deeply seated in chronic change. New devices, multiple social networks, and mobile technologies have fragmented prospect touchpoints -- and communication channels, in ways that would have boggled marketers' minds just a decade ago.
Digital agility and finesse are an ongoing requirement.
Attracting and connecting with prospects in new and socially relevant ways is now a business imperative. What do you think about Pinterest's displacement of LinkedIn's platform to #3 ranked social media platform?

How quickly does your business shift to meet increasing demands?
Social Media Examiner's 4th 2012 State of the Social Media Marketing Industry annual report provides an insightful overview of the digital landscape, and explores how 3,800 marketers are using social media to scale their businesses.
HubSpot's inbound marketing strategist Kipp Bodnar (co-author with Jeffrey Cohen of "The B2B Social Media Book") and Social Media Examiner founder Michael Stelzner presented a provocative webinar last week to discuss these findings.
The report is essentially divided between B2B (51%) and B2C (49%) marketers, and a majority of those who took the survey were U.S. small to medium sized businesses. The survey asked marketers a simple open-ended question: What question about social media do you most want answered?
Stelzner notes "Looking into these questions gives good insight into the types of questions marketers are struggling with right now --- How do I measure the effect of social media marketing on my business? What is the best way to measure the ROI of social media marketing? How do I track social media performance and make good business decisions? And what are the best measurement tools?"
The ROI of social media has been the number one question on marketers' minds over the past three years. Social media marketers' time commitments increased significantly this year, perhaps due to the emergence of new platforms such as Google+ and Pinterest. Finding and engaging customers is becoming top priority.
Generating leads is also critical. "Ultimately, finding your target audience is all about the content that you are creating and distributing. If you are creating content that solves the problem of your target audience and distributing in social media and engaging in social media like we talk a lot about here at HubSpot. It works. It's a magnet; it will pull in the right people to your business," explains Bodnar. Blogging and social media platforms are a natural fit for creating results using inbound marketing methodology.
Here are the 10 top social media questions marketers want answered:
Measure How do I measure the effect of social media marketing on my business?
Target How do I find my target audience with social media?
Engage What are the best ways to engage my audience?
Sell How do I sell with social media?
Time How should I best use my time to maximize my social media results?
Strategy How do I create a social media strategy?
Tactics What social media tactics are the most effective?
Tools What are the best social media management tools?
Use How do I use the different social media platforms?
Selection How do I select the right social platform/s for my business?
This cool Social Media Examiner infographic gathers some of the stats, ideas and key examples about what marketers think.
KEY TAKEWAYS
85% of marketers say the #1 benefit of social media marketing is generating more business exposure, followed by increasing traffic to their website (69%) and providing marketplace insight (65%)

40% of social media marketers want to know how to measure ROI of social media and find customers and prospects.

76% of marketers plan to increase use of YouTube and video marketing, making it the top area marketers will invest in this year.

While only 40% of marketers are using Google+, 67% plan to increase activities on the network.
The top five social media networks for marketers: Facebook, Twitter, LinkedIn, blogs, and YouTube were the top five social media tools used by marketers at the time of the study.

59% of marketers are using social media for 6 hours or more each week, and 33% invest 11 or more hours weekly.
The benefits of social media marketing for your company's business and brand are profound. Increased exposure, increased site traffic, marketplace insight, lead generation, loyal fans, improved search ranking, building business partnerships, lower costs, and improved sales were all cited as significant.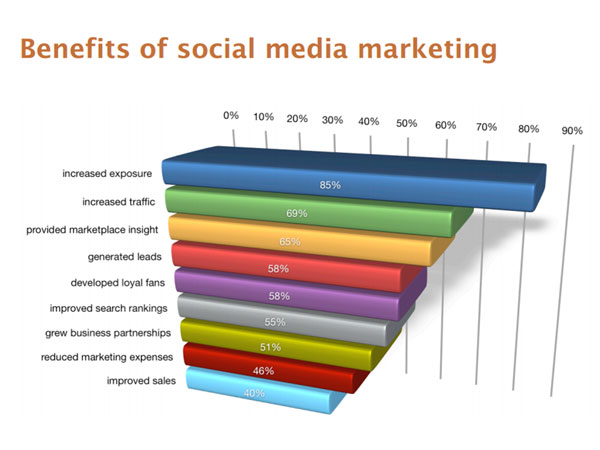 What does this mean for you as a business owner, marketer or agency? "Relationships are the new currency" (Brian Solis) We need to master relationships via social tools to optimize online social presence, answer key questions and produce results.
Click here to check out the full report
What key questions resonate with your business or agency's social media experience?