Are you ready to build relationships with your prospects with the goal of earning their business through lead nurturing?
According to Hubspot, without proper lead nurturing, 79% of marketing leads never convert into sales. That's a whole lot of missed opportunity. According to Forrester, on average a person consumes 11.4 pieces of content before making a purchase decision.
Are you ready to create more demand and engage more prospects with lead nurturing? This is indispensable because nurtured leads are 50% more sales-ready. Which means, nurturing your leads will improve your chances of converting them.
If you're looking to increase your sales opportunities, customer conversions, and brand awareness, while decreasing your sales cycle time, you'll love this handy guide.
Contents
Chapter 1
Map Lead to the Buyer's Journey
Building relationships with your visitors and customers is crucial.
The questions you need to address are...
"What do I need to do after a visitor has subscribed to my email list?" And,
"How can I connect with my subscribers and convert them into customers in the most useful and beneficial way?"
It comes down to offering the right content or offers to the right prospects at the right time. This is key to building trust. With lead nurturing, you're having a conversation with your visitors and giving them value first. By offering potential buyers explicitly what they are searching for and where they are in their buyer's journey will give you the best opportunity to convert them into happy customers.
And it all starts with defining your buyer personas.
As marketers you need to know your audience. And every piece of content created should be created with the answer of who you are creating it for. Your marketing efforts should start with defining your buyer persona.

To create your buyer personas, you should conduct interviews with customers, prospects, and members of your sales and customer service teams. You can also send out surveys and do your own research.
Here's a key takeaway...
Conduct win and loss interviews. You can gain insightful information from loss interviews as well. According to Buyer Persona Institute, the big payoff for marketing is massive respect. And the insights you gather from interviews will give you the who, what, when, where, how, and why.
"Who - you need to persuade within the buyer's organization

What - information they need to make their decision

When - buyers are most likely to be receptive to your message

Where - to reach buyers with your marketing content

How - to create a persuasive argument for purchasing your solution

Why - your marketing and sales is the best course of action"
Targeted personas allow you to focus on the right buyers. The goal is to continue to educate a new lead rather than push for a sale.
Here's an example of lead nurturing through email...
After a visitor downloads a content offer, you have a few steps to nurture them.
Step 1: Email the offer to them with a thank you page.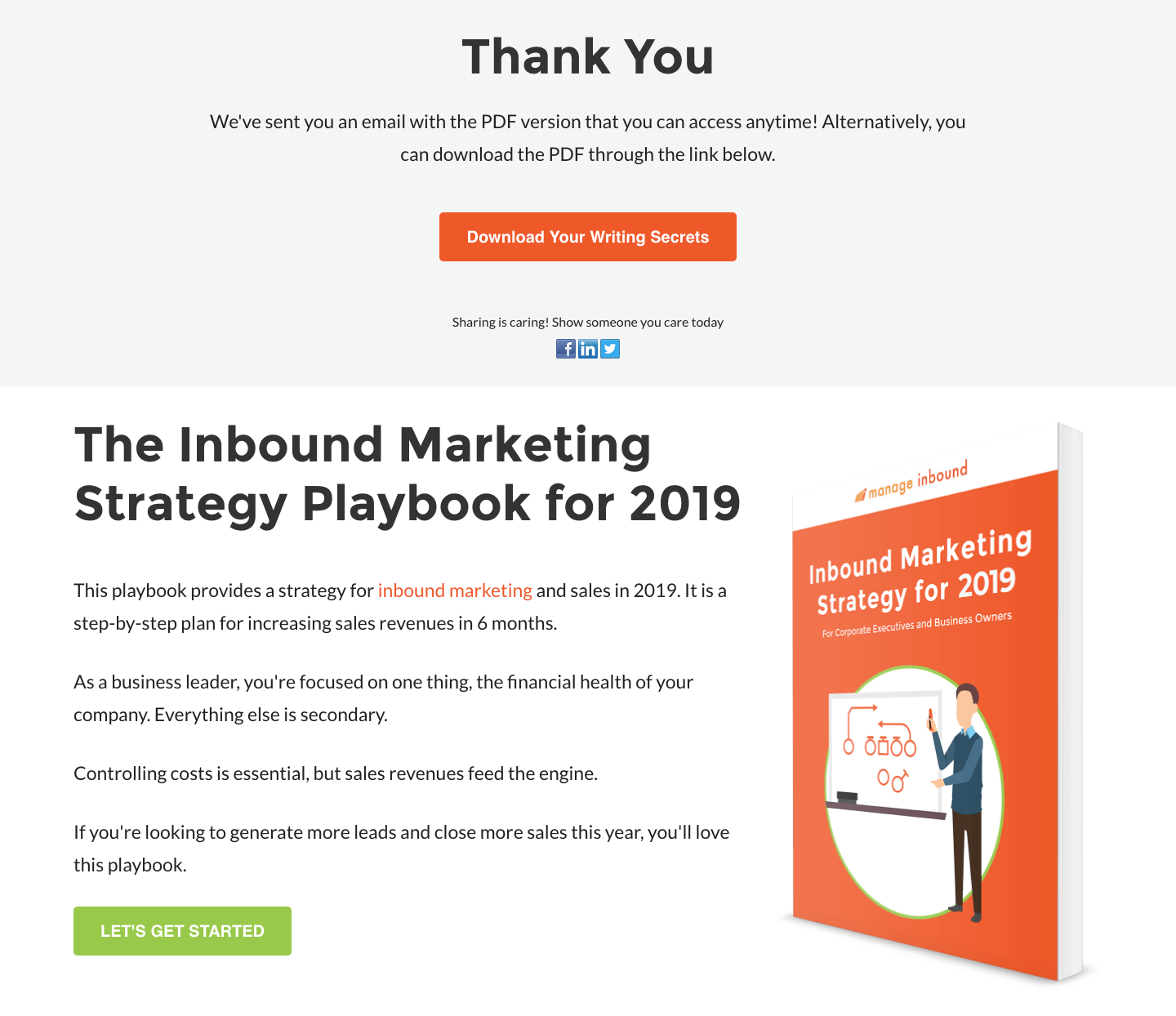 Step 2: Provide additional content. You can link to relevant content that exists on your blog. Adding links to your best content turns a thank you page into a helpful, value-added resource that helps warm up your new visitors.
Any information and education you can provide early on (when the timing and content is relevant) will assist in their buying decision later. It helps move your lead further along. The image above shows just that...more information for your visitor.
Knowing your visitor downloaded the PDF and subscribed to your blog, data will tell you how engaged they become. If they want more, give them more. Segment your email lists to deliver the right content when your prospects are ready to receive it. You can direct your leads to blog posts, videos, podcasts, etc. Make sure it is in their best interest, not yours. Add personalization to your emails to add a human connection.
Email sequences will build over time and will be based on the user's interactions. Gradually, you can introduce your lead to a more "consideration" stage call-to-action that is based on their communication. Your lead should think of your email only as the value it provides them.
The type of email you send will vary based on their decision-making buyer's journey. It can go from the first email that builds trust, to an additional download, to an action-based email, and if your lead takes a specific action or not (you may have to send them a "good-bye / break up" email at some point).
What not to do....
The best way to learn is often by example. In this article, Lead Scoring and Grading: The Foundation of Effective Lead Management, there is an example of four emails received after a first-time visit to the website and filling out a form to "learn" more (definitely an attract piece of content or as some still refer to as top-of-the-funnel content).
1. The first email sent to the prospect asked them to sign up for a webinar. This was the initial follow up after the lead submitted a form looking for educational content. I think it's premature to ask a lead to sign up for a webinar, when they don't know the brand yet or understand their own problem.
2. The second email asks the prospect to have a quick conversation with them (again, way too early in the buyer's journey).
3. The third email is still pushing for a time to chat. Getting into the prospect's mind, I'm thinking, "Hey ... I was just looking for a harmless piece of information." "I'm not ready!"
4. The final email gives the prospect four choices to basically "learn more about our product".
This all comes from a simple form submission that just wanted a little education.
This type of form submission is common. Its purpose at this stage is to supply more relevant content (that's it) and never be implied that the lead has the intent to buy (not yet at least). To me, the emails were more in the engage and decision making stage. Or the lead hit the "contact us" button.
Your email marketing strategy is a way to market your products and services (when the time is right), and nurture relationships.
Databox, a business analytics KPI dashboard offers a template to track the engagement with each of your emails.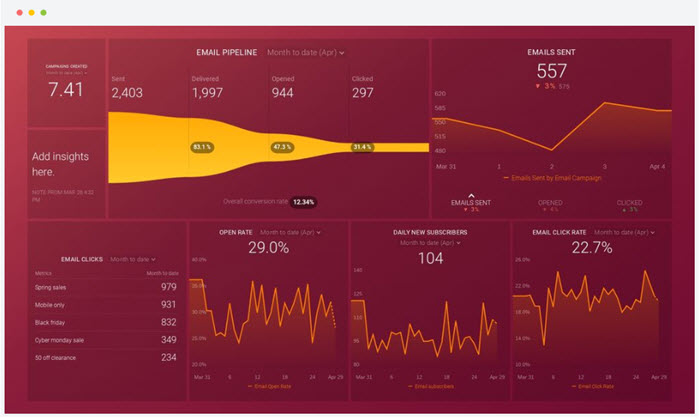 The dashboard shows which emails get opened and clicked over the course of a week or month. This will help you understand what's working.
Chapter 2
Map Content to Your Leads Interest and Status
The stages of the inbound methodology are: attract, engage, and delight. Nurturing your leads through content and at the different stages helps you build long-lasting relationships.
Let's take a look at lead nurturing in the engage stage (where it really likes to hang out).
Based on your lead's interest and lifecycle stage you can "keep the conversation going". Marketing software can help you stay in the loop and on top of every action your lead takes.
Think of it this way...
If a contact downloads a piece of content on "Guide to Scaling Content in 2019", you'll be able to send a follow-up piece of content that builds off that subject. Like the PDF above, "How to Create Demand and Engage Prospects (With Examples)".
Content mapping is figuring out the different scenarios it took and which action it took when a lead converted to a customer. There is a mixture of ways leading to a conversion. Mapping your content includes finding logical pathways your leads can take through the purchasing decision from their first encounter to a purchase. And the pathways can change depending on buyer personas.
Move Prospects From Awareness of Your Product to Customer of Your Business
Your prospects will move through a multi-stage process. You will need to create content for every person involved in the buying decision so it relates to them. It's important to understand where buyers get their information and how they want to consume it.
Identifying and Creating Content for the Three Stages of a Buyer's Journey
1. Awareness
Combines the three E's - Educate. Entertain. Engage. And always add value and be useful. Buyers are identifying their challenges or opportunity they want to pursue. Content at the awareness stage should answer their questions, contain resources, research data, and insights.
Blog posts are great for every part of the funnel. I love them in this stage because you can write long-form content that is considered "low friction" to your visitor and is purely written to help them.
One of Jonah Berger's, author of "Contagious: Why Things Catch On," key STEPPS is practical value. He says make it news you can use. Useful things get shared. "So highlight incredible value and expertise so that people can easily pass it on."
In the awareness phase, you want to provide enough information so they come back for more. Your visitors begin to take notice. They leave a comment, they share your work on social, they may even bookmark your site or download a content upgrade. (which you should have with every piece of content).
2. Consideration
Where marketing and sales meet - the time to work together as a team and inform and nurture. Buyers in the consideration stage have a defined goal or challenge and are committed to resolving it. They are evaluating their next step or approach to solve their problem.
Here it's time to weed out the leads. It's great that visitors came through the front door but not all will be qualified leads. But with the use of case studies and white papers -- still adding value and building trust and authority, your lead nurturing will be enhanced. Use a mix of gated and ungated (no signup or email required). Even better if you can show results from a "pain point" (specific problem) your lead is experiencing and give them a benefit-driven approach to the solution (fix that pain).
Case studies build trust.
What thought goes through your mind when you want to buy something or hire someone and they actually showed you - how it helped someone else in the same shoes?
Do you think it would inspire trust?
Do you think it would show your customers that you "get" them? And more essential, you can help them. This is where your lead starts to understand their problem better and how you can help.
Whitepapers expand more into what your product will do for them. More features are explained. In the consideration stage, customers know who you are and are ready to hear more about your product and how it will solve their pain.
You begin to position yourself or your company as the solution to their ever-aching problem.
3. Decision
Everyone is on board at this stage. Your nurturing is paying off. Buyers have already decided on a solution.
A trial, demo, or consultation is content that aligns with the buyer at this stage (more product-focused). This is where your most interested leads raise their hand and say, "I'm ready to talk or I'm ready to buy!" They are ready to evaluate if your product is right for them.
SmartBug Media states it perfectly...
"Nurturing is important because people enter your website (and database) at different points in the buyer's journey. And for the vast amount of companies with a solid inbound program, the most new visitors (and contacts) will be in the awareness phase, less in the consideration, and even less in the decision stage. To that end, you need to engage and "nurture" awareness and consideration contacts down the funnel with the goal of hopefully getting them decision-stage ready."
Let's look at a "live" pathway ...
Below is a great example of an Awareness Stage offer from SUMO that could potentially lead into a sale.
Example of Lead Nurturing from SUMO, a free suite of marketing tools to grow your email list, and get more traffic.
1. Prospect visits a blog post looking for ways to make their posts go viral >>> SUMO
401+ Ridiculously Useful Power words to Increase Conversions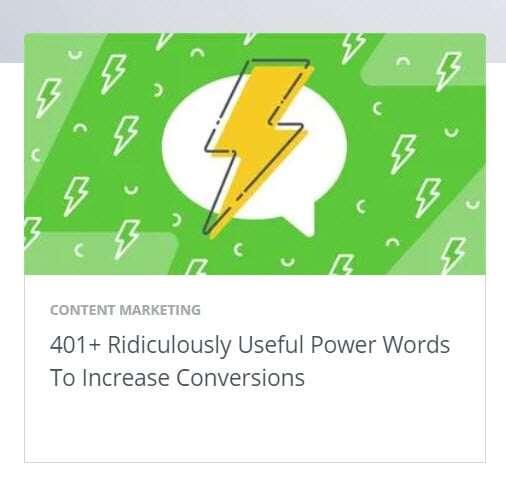 In the blog post they offer bonus material (content upgrade).
2. Prospect converts on PDF call-to-action>>>

I love this because they make it extra special by adding words you can only get if you download their 1-page PDF.
Seems fair ... You give them your email in exchange for power words in a PDF. And the words have the potential to increase conversions. The PDF is emailed directly to your inbox (this is a must to do) and lets you know it's headed there immediately.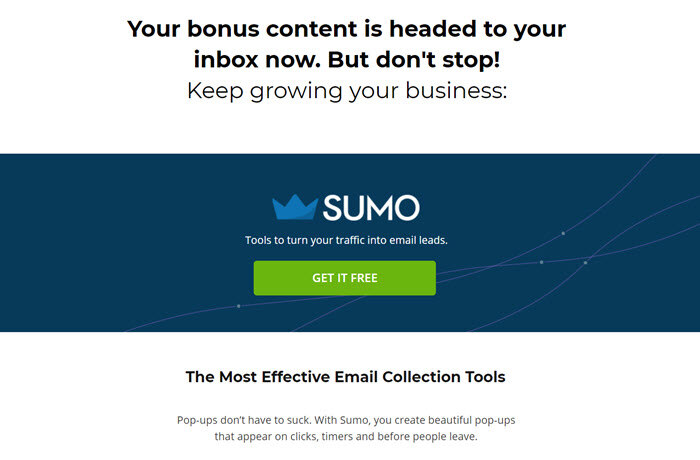 The email is received with an extra offer to download an eBook (ungated) with step-by-step marketing strategies used by 10 successful million dollar online businesses.

3. Prospect clicks through to site on eBook nurturing campaign offer >>>
Black Rhinos: Step-By-Step How 10 companies Made Over $10 Million
The extra offer was 10 chapters of actionable takeaways you can apply to your business with case studies. (no fluff!)
Here's where the rubber meets the road or the point at which the theory is put into practice...
SUMO already had a drip marketing campaign flowing. We received, "Our 3 most popular guides to grow your business." Lots of value and useability.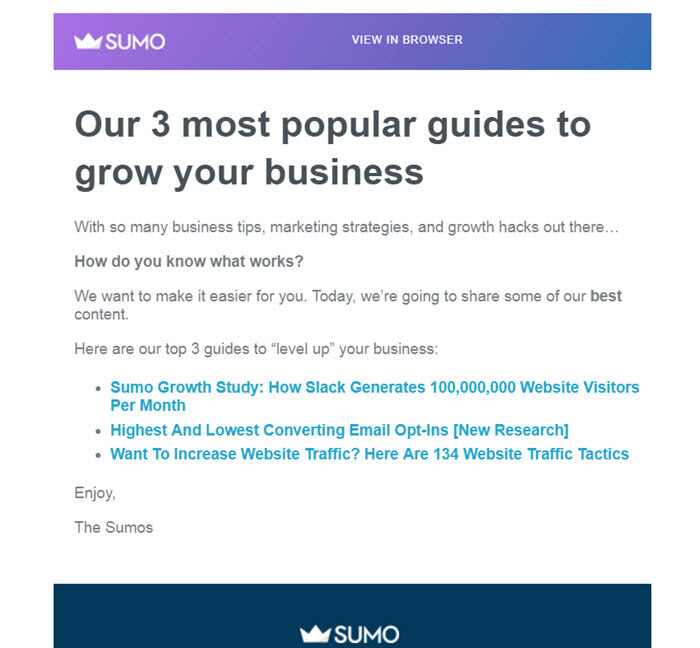 And, "How to get more website traffic". (who doesn't want that?)
However, after knowing the action taken ... downloading the 10 chapter book, this was the email to follow immediately: "3 Components of the Perfect Conversion Trifecta."
It could be a follow-up email in the original drip campaign or it's their CMS (content management system) that is so smart and segmented the list because the action taken (download the eBook) prompted a reaction. We are interested in conversions and SUMO is providing more relevant information.
With, of course, more call-to-actions to try their tools for free.
4. Prospect (after being highly educated, informed, and engaged ) navigates to the company's product page >>> Consideration Stage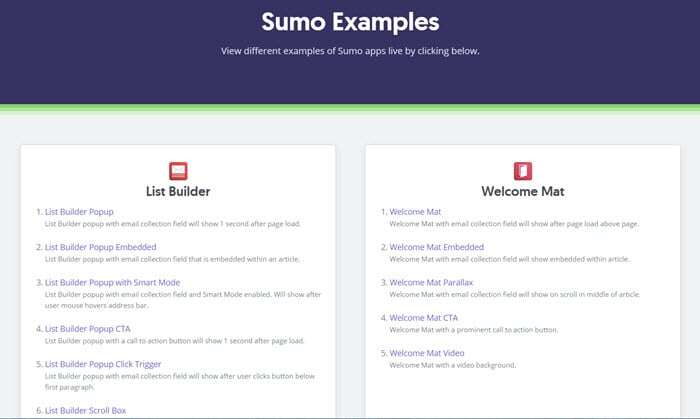 5. Prospect is so excited upgrades to a pro pack! Decision made. Done deal.
There are a ton of logical pathways your lead could take. As more data is available, you'll discover trends and improve content creation along the way.
Chapter 3
Integrate Social Media Marketing Into Your Lead Nurturing Campaigns
Lead nurturing is not just an email-driven or content marketing strategy. Because buyers are multi-channeled in their buying behavior, you should be multi-channeled in your lead nurturing efforts.
Social media has surfaced as a player in your prospects' and customers' lives, and marketers need to integrate lead nurturing to build stronger relationships. Diversifying your content to other channels is a way to expand your network and brand reach. Potential buyers look for advice when making decisions between your brand and a competitor.
Customers look for help on social media...
Here's where the savvy business marketer reaches out directly to nurture its customer on Twitter.
Listen and respond in real-time...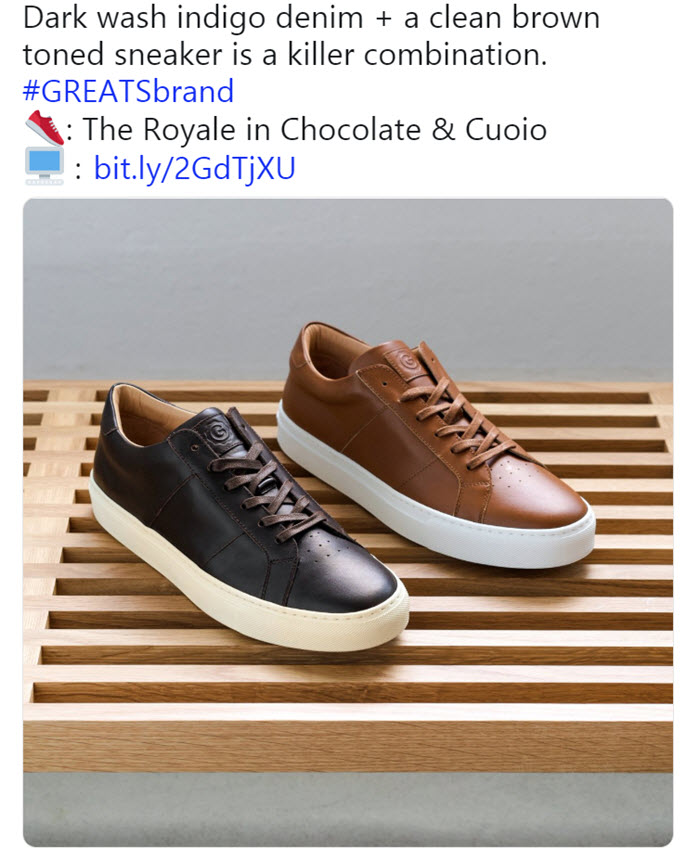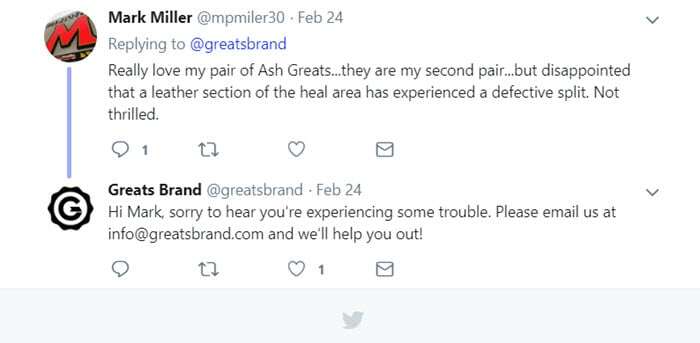 A quick response from the "Greats Brand" probably made an unhappy customer...happy! Closely monitor your social media accounts to guarantee your leads and in this case, a customer is getting the customer service they deserve. Failing to respond to comments could slowly weaken your leads' trust.
Your leads are human.
They want and need to have a conversation with you. They jump from your social media channel to website, back to email, and then Google for more information. Your prospects use social media platforms like Twitter and Facebook (more on FB in Chapter 7) to learn about your products and they use that information in their purchasing decision.
Different leads may spend their time on different channels. Neil Sheth, of Your Brand Found, says...
"Think omnichannel. Your customers need to see you on social, hear your advice on your brand's blog, and get updates from you via email. In essence, you need to be everywhere."
If you connect with your leads on social media, you add a personal touch and build relationships that will become powerful during the sales process. Using social technologies to engage with potential customers and customers will help companies become more responsive and agile.
Chapter 4
Involve Your Sales Team With an Effective Sales Sequence
It's been said, "Whoever gets closer to the customer wins!"
But how do you do that?
Sales no longer involve a traditional sales sequence because customers are savvier and more educated before they begin a process with you. They research your company and are closer to a buying decision before they even speak to a salesperson.
The older, more traditional way of thinking was:
1. identify a sales opportunity/customer
2. qualify the prospect
3. make a sales proposal / pitch
4. negotiate and close the sale
5. provide ongoing support
6. begin the process again with the next potential customer
A newer, easier, and less invasive way of thinking:
1. identify your ideal prospect
2. build a relationship with them through automation
3. qualify the prospect
4. generate intrigue and prove you're the optimum solution through lead nurturing
5. follow up and make their buying decision even easier (if done right they are requesting a demo or phone call from you).
6. once the buying decision is made - provide quality service
7. maintain and nurture the relationship
The lead nurturing process takes your prospect, by the hand, and brings them through the different stages of their buying journey. It's an influential part of customer-centric B2B marketing. Gleanster research estimates 50% of leads who are qualified are still not ready to buy. If you start calling the leads at this point and push for a sale, you may lose them.
Let's take a closer look at the value of your subscriber.
You can start nurturing them after their first conversion. Maybe they subscribed to your blog, downloaded a content offer, or the best scenario - they requested a call from you, demonstration or trial offer. These are completely different stages of where they are in their buying journey.
Think about it...
A subscriber to your blog is in a different mindset than a person who wants to speak with a salesperson. So, how do you sift through the subscribers and acknowledge who they are, what they want, how you're going to deliver the right message at the right time, how you'll solve their problem, etc.?
You do it through lead qualification.
You want to engage leads your sales team can close into customers. Nobody on your sales team has time for the "looky-loos" that have no intention of buying. There are too many other prospects that need your solution and might not even know it yet.
Leads that are a good fit for what you are offering and ready to have a conversation with sales are the great contenders.
Lead Management: it embraces segmentation, nurturing, and lead qualification
Effective lead management begins with lead segmentation. To have conversations with your prospects, leads, and customers you will need to be able to create messages that show them you're listening to their needs and wants. Segmenting your list helps tell the right stories to the right person.
This means creating a message dedicated to the real person that it's intended for. It's your job to nurture a prospect, lead, or customer based on their one-of-a-kind interest or challenge.
There are a number of ways you can qualify your leads.
The important aspect here is determining if they are a marketing qualified lead or sales qualified lead. And the main difference here is the MQLs are more likely to become a customer (they engaged in your marketing efforts) compared to the other leads, however, they are not quite ready for a sales call.
They engaged in some type of online behavior, email, and/or social engagement. They know they have a need and you have the solution.
Chapter 5
Use Lead Nurturing with a Specific Campaign in Mind
Campaigns are a great effort for all your marketing channels around a single offer and goal.
Are you ready to be intentional about your goal?
Let's take a look at a campaign we once ran back in 2016. It was for a pilot course we were offering.
1. We followed the smart goal-setting structure...
Specific - The goal was to have 10% of our "Manage Insiders" attend a webinar. At this stage, the leads had joined our newsletter and were receiving educational content for some time.
Measurable - Through our CRM we had the ability to track our goal.
Attainable - The goal is not outlandish and achievable.
Relevant - The goal aligned with our company strategy and through research and feedback we discovered the need for this free advanced training to our specific audience.
Timely - We were getting ready for a new product launch.
2. We laid out a soft launch, starting with email marketing...
One week before the webinar, we promoted the webinar to contacts that already had interest via email.
We sent an email to our "insiders". (Looking back ... the subject totally missed the mark). That's a topic for another time but as a content strategist, I think we could've done better than, "Do you like this idea for a free webinar training?"
Maybe we could've mentioned what the training was or wrote something a little more compelling like "Do you know how to become the most profitable person in the room?" (totally swiped that). We did get an open rate of 31% ... so not too bad.
We sent a follow-up email to those that were not compelled to open the first email. This time we used the subject: "What's keeping you from making sales online?" That got us an additional 22% to take a peek.
We got some feedback and listened to our visitors' challenges. (part of the lead nurturing process). We sent additional emails, "Last call to register for the training" and "The webinar is about to begin. "Are you available right now?"
Reminder emails help you stay on top of a user's mind after they sign up for a webinar, and it offers the link for them to attend.
"If 100 people reserve a space, expect about 40% or more to become no-shows." source: Elliott Masie's Learning Trends
3. We shared on social media...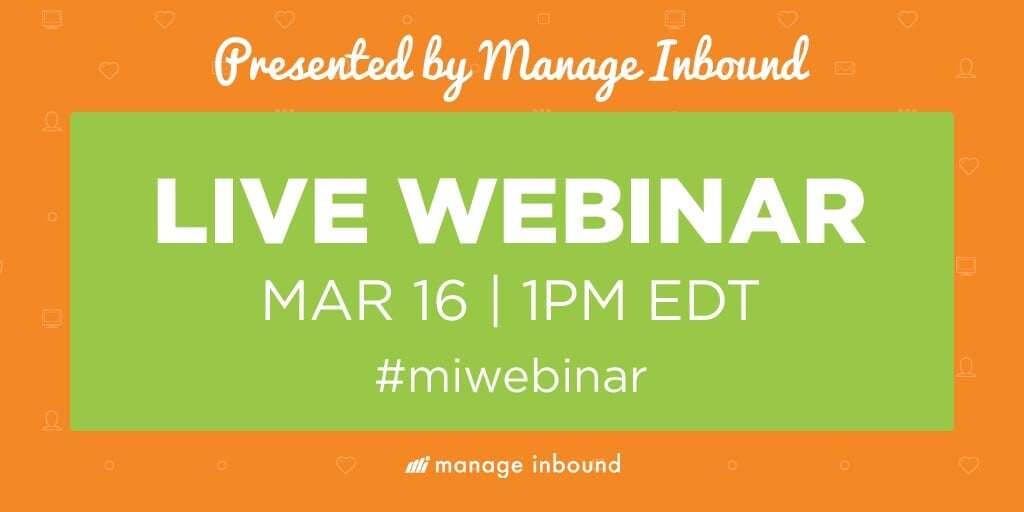 This type of campaign was geared for those that knew the MI brand already and wanted to up their game. It was a great webinar and we hit our goal with the number of registrants.
If this was more than a soft launch and we were scaling our product, we might have added more blog posts leading to the launch with meeting our leads challenges, locked down guest posts with more links back to our site, CTA's, landing pages, and workflows,
Through each step we could segment more, use smart content and continue with the best lead nurturing available (workflows being one of them).
Email marketing strategies work, but email nurture campaigns are even better.
Wait there's more...
An email nurture campaign is a series of emails based on a lead's behavior, which guides the lead through the buying journey. Similar but slightly different from the emails above.
Lead nurture campaigns require:
list segmentation
tailored content
specific offer and call-to-action
It behaves more around a company's sales strategy.
Drip marketing (yet another term) is time-based and is designed to educate consumers and guide them to the next step towards conversion. Lead nurturing identifies the leads that raised their hands and shows them additional, relevant content offers when they are ready. There has to be an additional action by the prospect, lead, or customer to generate the next step.
This type of lead nurturing can be done through automation with the end goal of closing more educated and qualified customers, faster. A workflow can be created that defines the goal, understands which contacts should be included, identify the number and types of emails, and decide the timing between each email.
The next two chapters are specific to lead generation which creates the need for lead nurturing. We talked about "managing" potential customers through their buying journey. The next two strategies will enhance your lead nurturing skills and get you to your goal faster.
Chapter 6
Expedite Your Leads Through the Buyer's Journey With Facebook Retargeting Ads
Facebook needs no introduction. It's massive and one of the most powerful ways to market your business today.
But did you know it can play a pivotal role in your lead nurturing?
You may be ultimately familiar with retargeting from your entire website. You use a code/pixel to "follow" your audience all over the internet. You're basically marketing to those people that have already visited your website.
However...
Marketing to everyone might not be the best choice for them or your business. Setting up a retargeting campaign based on a specific blog post or piece of content may be the more sensible way to go with a better ROI.
Let's back up a second and answer why you would want to do that in the first place...
It can show more content that your leads are interested in (ultra-specific).
This is a responsive audience that you can run offers to or promote content to build brand awareness and strengthen relationships.
You are nurturing them with additional, relevant information and giving them exactly what they want and need at the right time.
There is a better chance it will increase engagement.
There is a better chance the engagement will increase conversions.
The staggering truth is that only 2% of traffic converts on the first visit to a website. You need lead nurturing to be effective.
Picture this...
Someone just spent 12 minutes reading about the "Top 62 Visually Appealing Websites Using Inbound Marketing." There's a good chance they would also be interested in "Growth Driven Design". Making your website more visually appealing alone, will not generate more sales. But the combination will!
As your visitor is spending time reading the first blog post they are in the awareness stage. As a conversion-oriented content strategist, you need to zone in on your buyer persona. Consider their demographics, motivations, goals, and behavior patterns.
Based on market research and data you collect from your existing customers, you can drill down the details of your ideal customer. In doing so you'll be able to attract your most valuable leads and customers. And market to them dead on.
Having this understanding of your buyer persona(s) will help you with content creation, ad generation and sales follow-up.
Prospects that visited your blog post and know your brand, can be placed into a retargeting campaign that could get them to try something else. Based on the example, reading the post on Visually Appealing Websites, and emailing additional content on GDD, maybe a quick 15-minute consultation of their website and how users are engaging with their content could be the next step. The consultation could dive deeper into an agile approach versus aesthetics.
Facebook can help expedite your leads through the buyer's journey and take action (convert) that ultimately leads to a sale. You can target or personalize your marketing ads for different segments of your target audience.
The process with your Facebook ads could follow a simple, logical pathway like this:
You display ads for an awareness stage content offer
If your leads download that piece of content, you then show ads for the next stage, consideration offer.
For those that downloaded both content offers, your next step could be to show additional ads for a decision stage offer.
Through nurturing, your prospect may be ready to convert on their own or sales will be ready to follow up with them to answer any questions.
Whatever pathway you choose for your lead, make sure your ad's headline and description match the content of the post you are referring to.
Congruency is key.
Here's how you can get started with a quick campaign on Facebook:
Step 1: Choose your blog post you want to retarget.
Step 2: Place the Facebook tracking pixel on that page.
Step 3: Create a custom audience on Facebook with the criteria "people who visit specific web pages" and the URL contains: "the name of your page you are targeting"
You'll be able to retarget past website visitors who have taken a specific action such as viewed a page/post and engaged with your content.
Step 4: Give a specific time frame (for example, visited the blog post in the last 30 days).
Step 5: Name your custom audience (for simplicity, use the name of the blog post).
Step 6: Create your ads.
Step 7: Monitor your ad campaign.
Setting up a retargeting campaign based on a single piece of content such as a blog post, will help increase the chance of engagement and conversion. You'll target an ad to people who landed on a specific page URL, rather than retargeting all website visitors.
Extra resources:
7 Ways to Target Website Visitors with Facebook Custom Audiences
What is Retargeting and How Does it Work?
3 Examples of Retargeting Strategies that Actually Work
Chapter 7
Convert Website Visitors Effectively With Inbound Pop-up Forms
I know what you're thinking ...Pop-ups are dead.
And they are annoying, rude, and insulting! Especially the ones that tell you how fortunate you are to have won a prize, so give them your email and go claim it.
Most of us have become immune to pop-ups not giving them a second thought. So as marketers, why use them at all?
Previously those annoying pop-ups were created by third-party advertisers, were unrelated to what you were reading, consumed your entire screen, were intrusive, and just plain bad. Today you can use them but they need to be implemented correctly.
According to our friends at SumoME,
"Pop-ups work. There's just a misunderstanding about what makes a successful pop-up (that isn't annoying)."


image credit: SUMO Pop-up Statistics: Findings From Analyzing 2 Billion Pop-up Examples
The top 10% highest-performing pop-ups averaged a 9.28% conversion rate. (The visitor saw a pop-up and took action.)
Pop-up forms can be placed on blog posts, landing pages, or website pages. It can appear as a pop-up box on your page, drop-down banner from the top of your page, or as a slide-in box from the bottom left or right of the page.
They're about the conversation you are having with your leads. The information on the page feeds the pop-up.
Here's an example.
We have a post on Blog Post Writing Secrets to Convert Leads Today. I think that's the perfect time for a pop-up offer to an eBook on Content Marketing [Guide to Scaling Content]. It offers something relevant and valuable, without ruining the users' experience.
You can build on the topic of your page with a content upgrade. Or you can have a pop-up offering the post in a PDF.
Let's take a look at some visuals. We're toying with this type of pop-over right now...
The blog post this potential pop-up could appear (or you might see one on this post that is similar).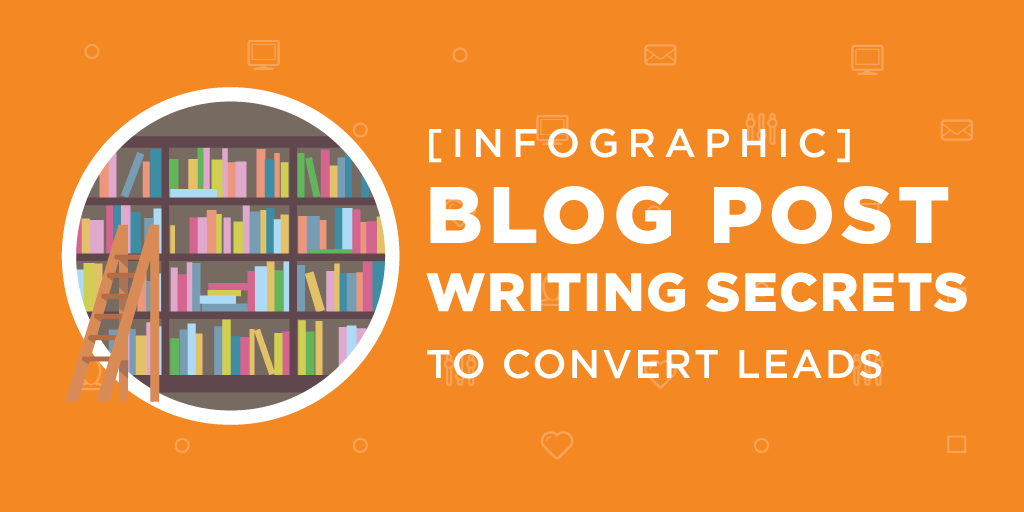 1. Type: Choose a pop-up form type. Box, Drop-down banner, Slide in box left or right.
We are going to test the slide in box left (not sure if there are stats that show one over the other working better - right versus left). My thoughts are it's more important they don't appear immediately and the best pop-ups offer something of value.
2. Call out: Offer something relevant and valuable and not interruptive. Here's what we want to give you.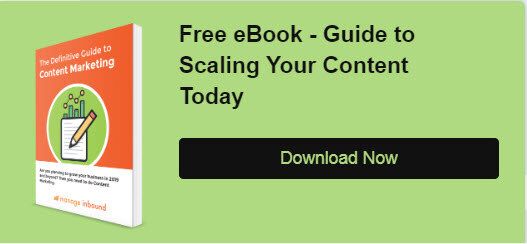 3. Form: Keep it simple. Just ask for their email to send the content.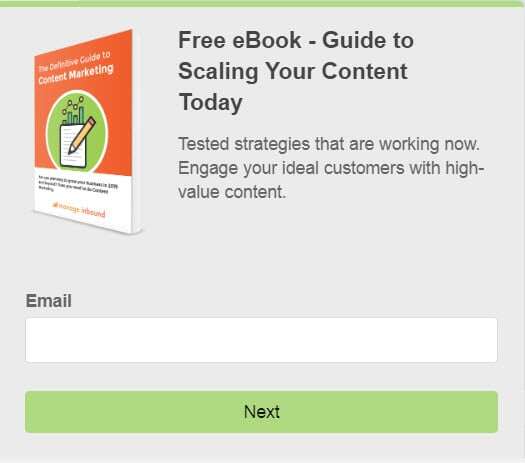 4. Thank you: You're polite. (And there's opportunity to give more...)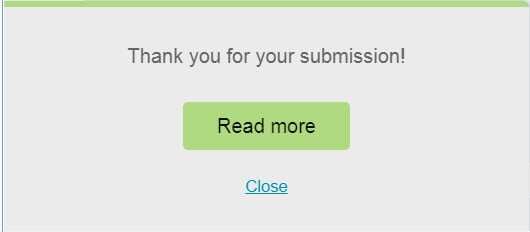 So what should you keep in mind when creating pop-ups...
It has context. It must be placed in the appropriate setting. The pop-up above could appear on our other post that is relevant to content marketing.
They are branded to match your website.
Plan on having your visitor on your page for at least 15 seconds before you display the pop-up. This gives your reader time to understand what the topic is about. You can set a pop-up after your reader has scrolled 50% of the page (or whatever setting you test that makes sense). Tip: Check out your Google Analytics data. Look at average time on page. The data can help you decide the timing of the pop-up.
Make sure you are offering an additional, valuable piece of content.
The Call-to-Action matches the promise. And contains action language.
Now here's where we get a little "Inbound" on you. An inbound marketing focused email is different from traditional, outbound marketing emails because:
your visitor opted-in. They said "yes".
you are targeted with your content
adds value
Follow-up emails after you send the content is important here.
Marketing automation will help make it easier to deliver more content to your leads and customers. Hubspot makes it easy with their three follow-up emails built into the pop-up forms.
This is where the theory of email marketing and lead nurturing comes to fruition.
5. Follow-up: Find the right balance and map your email content to where your lead is in their buying journey.


The number one question you should be concerned with is, "What's in it for them?". If your prospect just downloaded something, expressed interest, but they did not ask to be contacted, it is only time to give more value. Educate and inspire through your follow-up content.
And it's important to test email subject lines. We could do another post on this topic alone but continue to be conversational and personalize by adding the person's name. There are sales statistics that prove follow-up emails are key to closing a deal.
6. Options: Pick where you want to place your pop-up with rules such as scroll time.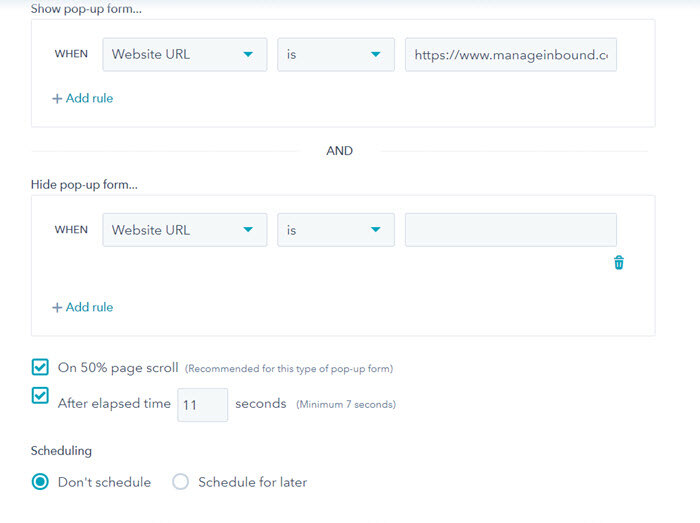 Noah Kagan analyzed a heat map test and noticed that...
"Slide-in subscribe leads had a much better conversion rate than any regular pop-up. Based on this, they concluded that slide-in pop-up box converted best for them at approximately 80% scrolled down the page."
When to Use a Drip Campaign vs. Nurture Campaign
10 Web Form Examples You'll Want to Copy Immediately
Pop-up Statistics: Findings From Analyzing 2 Billion Pop-up Examples
Back to You...
Are you convinced your business can benefit from lead nurturing? Your lead nurturing should be timely, efficient, and targeted to be successful.
Do you think your customers deserve a little hand-holding before they part with their hard-earned money?
Leave a comment below and share tips from your experience with lead nurturing.