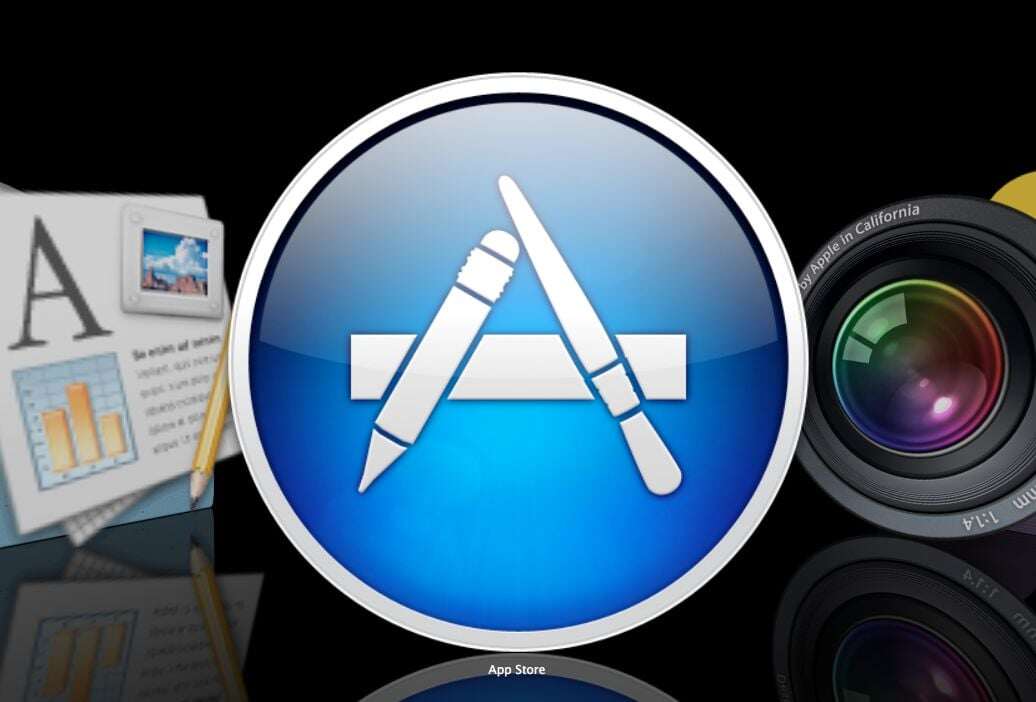 As an app developer, the quality and usability of your product are the most important aspects in terms of getting your app in the hands of the most people. Fast iOS app approval also helps! Apple's thorough review process can be a frustrating experience unless you prepare in advance. In this post, we share some ways to help you get through the process easier.
Essential to Apple's process is a set of fairly clear — although involved — steps for submitting your app for publication. In a previous blog post, we explained the step-by-step submission process that you need to follow in order to get your app on the App store and ready for sale. Following all the required steps will make the process as smooth as possible.
Tips for Fast iOS App Approval
There's a first time for everything, right? Whether this is your first or hundredth app submission, it's worth the effort to understand the process completely. Taking wisdom from those who have blazed the trail before you is a smart way to approach your plan for submitting your app for review. Here are our best tips for smooth, fast iOS app approval:
Tip #1: Follow the Submission Process Guidelines Exactly
The submission guidelines are spelled out very logically in a guided format. The process requires a high level of detail about the app, so it makes sense to have someone very familiar with its development involved in the submission process. Some of the steps require very specific information to be provided, such as multiple images with specific parameters for display in different areas of the app. Everything that is requested must be included and in good order for your app to be approved in a timely manner.
"Double-checking your work" is absolutely key before submitting your final app version for review. Once again, here is our guide to prepping and submitting your app for review.
Tip #2: Understand the Average Review Times — Be Patient!
The average review and approval times for the App Store are significantly improved as compared to a year ago. You can find out the current average review time on appreviewtimes.com. Below we show the current averages at the start of the week of September 7. The iOS App Store is currently averaging eight days for approval while the Mac App Store is coming in at just five days' average approval time.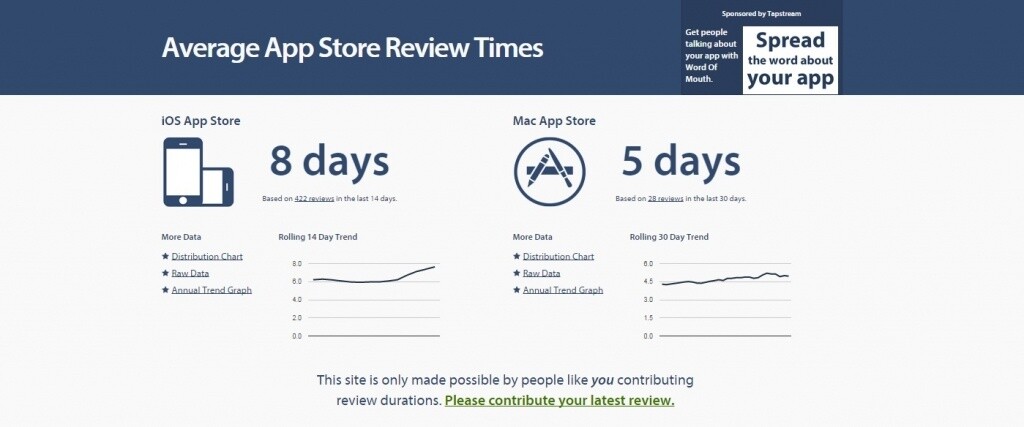 image: appreviews.com
How are the Averages Found?
The average review times published on appreviewtimes.com come from data provided by developers after they've completed the process of submitting and successfully publishing their apps. They do not represent official Apple data, but anecdotal data from actual developers. While the data gathered represents just a small percentage of the total number of apps submitted daily, these reports have proven to give an accurate indication of review times and how they can fluctuate somewhat over time.
How Can You Contribute Data to the Site?
Any developer can contribute data to the site after successfully publishing an iOS app. Using the Twitter account @appreviewtimes or the App.net account @appreviewtimes, just post the time it took (number of days) for your latest app to be reviewed and approved. Simply post hashtag and "x days" at a minimum; including the app name and link is helpful too, but not required. See below for an example tweet:

image: appreviews.com
You can also easily view the latest averages, posted once per day, on both the Twitter and App.net accounts.
Tip #3: Avoid the Most Common Submission Mistakes
Following Apple's guidelines exactly is the only way to get a clean approval on your first submission. Unfortunately, many apps are rejected due to simple, but common, mistakes that can be easily avoided. Apple has issued a notice of the most common mistakes that cause apps to be rejected. Use the following information as a checklist before you submit your app to avoid any snags in the process:
1) Crashes and Bugs. Test...test...and test again, before you submit. Be sure your app works on devices and fix bugs; otherwise, you can expect to return to the drawing board.
2) Broken Links. If your link goes nowhere or somewhere it's not supposed to go, your app will be rejected. A link to your privacy policy is also sometimes required.
3) No Placeholder Content. If you're using placeholder content, then clearly, your app is not complete. Submitting it at this stage will result in denial of approval. Finalize everything first.
4) Incomplete Information. In your app has features that require signing in, you'll need to provide the username/password information. In addition, your contact information must be real and up-to-date.
5) Inaccurate Descriptions. Make your app description and images as clear and accurate as possible. If your description does not match the user experience, the app may be rejected.
6) Misleading Users. Don't attempt to give a false impression of the features or capabilities of your app. It must do what it says it will do in order to be approved.
7) Sub-standard User Interface. Attractive, user-friendly appearances will help your app to get approved, compared to a cluttered, difficult-to-navigate experience.
8) Advertisements. Be sure to test your app to make sure it displays ads properly and indicate whether your app uses the Advertising Identifier (IDFA) to display ads.
9) Web Clippings, Content Aggregators or a Collection of Links. Successful apps engage the unique features of iOS and provide a wide range of web interactions.
10) Repeated Submission of Similar Apps. Combine similar apps into one complete and highly-valuable app for the best chance of being approved.
11) Not Enough Lasting Value. Your app needs to offer ample content — content that is needed or wanted by a fairly wide market. From the start, focus on providing a quality user experience when creating your app.
Over half of all app rejections are attributed to developers making one or more of the top 10 most common mistakes in app submission. Here's a breakdown of the recent rejections from Apple Developers: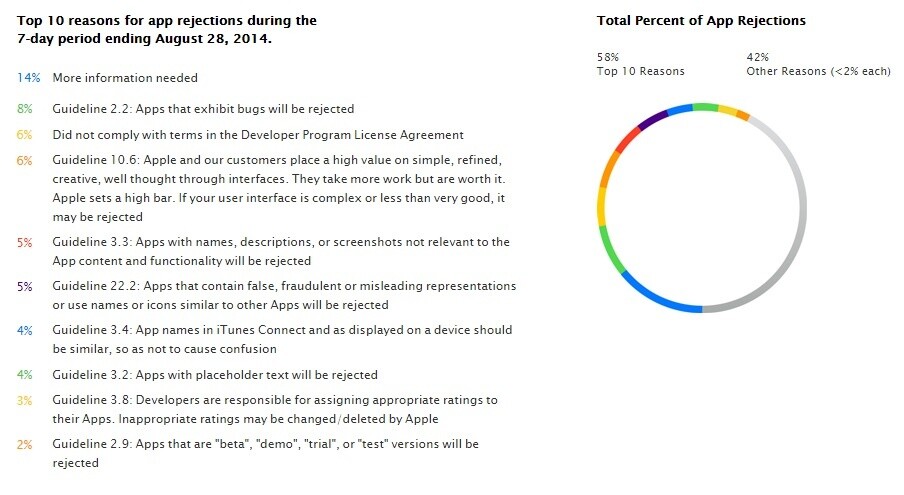 Quality is in Your best interest
Apple's process is meant to ensure that users have access to the highest-quality apps available. It's in every developer's best interest to have his/her app published in a timely manner. Following the tips above will help you to receive a successful and fast iOS app approval for your submission.
Want more mobile app expertise? Check us out!
Image credit: app store